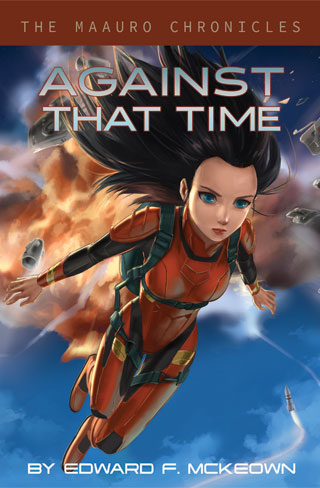 WITH NASA's successful test of the RS-25 rocket engine (the most powerful rocket ever), the recent announcement of the possible discovery of an Earth 2.0 orbiting Proxima Centauri, and the rampant speculation of some variant of a Dyson sphere surrounding Tabby's star, there is no shortage of fresh science to inspire the burgeoning field of science-fiction, and novelist Edward F. McKeown's "MAAURO Sci-Fi Series" is a prime example of this.
Published by MoonDream Press in 2015, McKeown's MY OUTCAST STATE, the first novel in 'The Maauro Chronicles,' is an exciting space opera in the vein of the works of legendary authors C.J. Cherryh and Poul Anderson.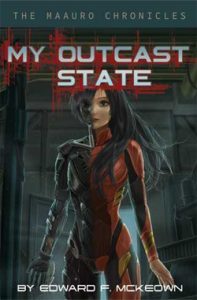 It features the small but rough and tumble crew of the space ship "Sinner." Pilot Wrik Trigard is haunted by a less than heroic past, and he and his cohorts chance upon an ancient battleground only to stumble upon perhaps the greatest treasure of all, an unconscious fifty-thousand-year old sentient battle android possessing amazing technologies and skills. By the end of this exciting novel the killing machine not only decides to continue its existence in the guise of a human female newly named "Maauro," but takes on the appearance of a most unusual woman, an anime character from an old game in The Sinner's back-up computer files.
After the successful release and sale of the 'My Outcast State,' McKeown has now blessed MoonDream Press with a sequel, AGAINST THAT TIME, which picks up shortly after the first book left off.
Captain Wrik Trigard is no longer in service to a local crime lord, and with the support and companionship of the incredible battle-android Maauro is now free to engage in some real commerce. Unfortunately, Maauro's existence has caught the attention of the Confederation's spy service, and Wrik's crew is reluctantly drafted for a mysterious and dangerous mission. Now they will face an enemy who can twist time and space, and each move they make could bring interstellar war. Maauro and Wrik's friendship deepens in new and unexpected ways as they must battle their inner limitations as well as this new enemy.
AGAINST THAT TIME was released several weeks ago as a trade paperback and today is now available as an e-book on Amazon Kindle.

**Please also take note that a Very Special Announcement will be made on this Blog on Friday for all MAAURO CHRONICLES Fans. So stay tuned and don't blink!**