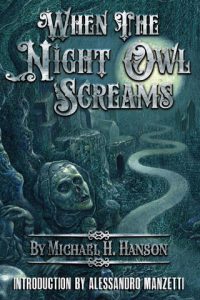 Michael H. Hanson's creepy collection of poems, WHEN THE NIGHT OWL SCREAMS, Narrated by the amazing Ben Gamble, is now available on Audible!
Visions of terror, abandonment, and rejection…nightmares populated by archetypes of death, mystery, and the supernatural. Join Michael on an eerie bus ride of the soul and brace yourself for each strange and macabre stop. When The Night Owl Screams offers up 105 hair-raising poems that worm their way through the fever dreams of your subconscious.
Remember…you were warned.
"This book is like a magical ticket to visit everything that has been, that touched and surrounded us, from yesterday's vanilla smell to that of chopped alien almonds of lost days, stuck inside us. This is the secret of Michael's book: his intimately varnished poems carry us back and forth in time and space…"
—Alessandro Manzetti, Bram Stoker Award Winning Poet