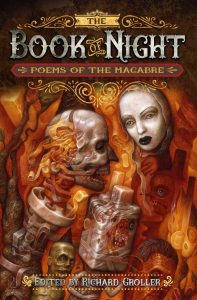 THE BOOK OF NIGHT poetry anthology, Edited by Richard Groller (MoonDream Press) is now available on Audible! Narrated by the amazing Chris J. Davis, these chilling poems will electrify your dreams and rattle your nightmares!
Welcome to the world of shadows, cloaked in perpetual starlight; its denizens are a mysterious and frightening breed. And sometimes, just sometimes, their eldritch whispers and murmurs can cross the boundaries of reality and enter our darkest dreams.
Richard Groller and his troupe of dead and living poets pull back the veil in The Book of Night, revealing the terrifying denizens of the shadows. Eerie and hypnotic artwork by some of today's most chilling artists illuminates the vivid imaginings of the poets.
**Apparitions**—things seen and unseen at the edge of our vision, or embedded in the corners of our nightmares.
**Sweet Sorrow**—the pain and poignancy of loss, love unrequited, visions from afar, the pangs of memory, or the last breaths of mortals.
**The Autumn People**—denizens of the night welcome the Fall and its All Hallows promises.
**Through A Glass Darkly**—peer through the gloom seeking the moment of revelation, and all becomes clear—or not.
Come, the Night awaits…
Authors-Living:
Louis Agresta
Larry Atchley, Jr.
Jeff Barnes
Dean M. Drinkel
Richard D. Evans
Jack William Finley
Allan Gilbreath
Richard Groller
Michael Hanson
Lori Martin
Chris Morris
Janet Morris
Kurt Newton
Jillian Perkins
Kimberly Richardson
Bill Snider
Angel Weaver
Authors-Deceased:
Ambrose Bierce (1842-1913)
Rupert Brooke (1887-1915)
Michelangelo Buonarroti (1475-1564)
George Gordon (Lord) Byron (1788-1824)
Samuel Taylor Coleridge (1772-1834)
Ralph Waldo Emerson (1803-1882)
Robert Frost (1874-1963)
Johann Wolfgang von Goethe (1749-1832)
William Ernest Henley (1849-1903)
Rudyard Kipling (1865-1936)
Edward J.M.D. Plunkett, (Lord Dunsany) (1878-1957)
Edgar Allan Poe (1809-1849)
Oscar Wilde (1854-1900)