I just heard the sad news about the death of actor Richard Hatch from pancreatic cancer. It is doubly sad for me as not only had I met Mr. Hatch at DerpyCon in 2015, but my own mother was taken by pancreatic cancer in 2002, less than a week after she was diagnosed.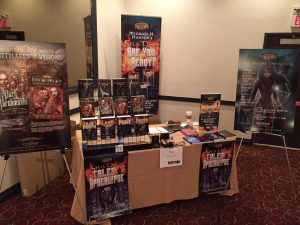 I was helming the Copper Dog Publishing sales table at DerpyCon Saturday morning of November 18, 2015 when across the floor I spotted none other than Richard Hatch setting up his autograph table.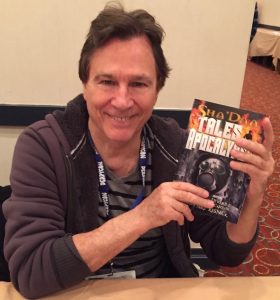 During a lull in sales, when most of the conventioneers were attending panels, I had some free time to walk over to Richard and introduce myself. I even offered to give him a free copy of one of my Sha'Daa shared-world anthologies for a photo-op and his very gracious reply was that he'd love to let me take a photo but that he had a policy of not accepting gifts as he traveled light and didn't have room in his luggage for books, etc.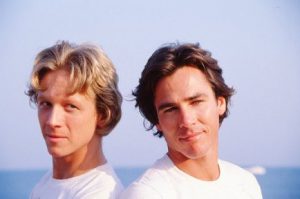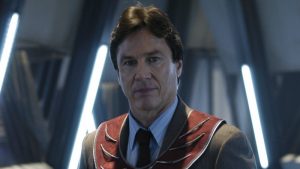 Next we ended up having a lively conversation about his many projects I'd seen over the years, including the TV movie DEADMAN's CURVE and his performance as Tom Zarek on the rebooted Battlestar Galactica.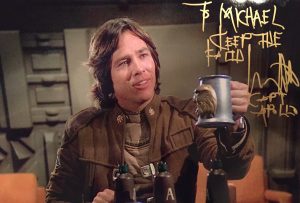 Before I knew it I decided to ask for an autograph and purchased a photograph from Hatch's most iconic role from my childhood, Captain Apollo.
The ten minutes flew by and a new wave of convention goers poured into the sales room and I retreated back to my sales table. The memory still feels fresh… Richard Hatch was friendly, outgoing, and downright charming. The was no air of the uptight television star about him, and I am very grateful for how gracious he was in allowing me to photograph him holding a copy of Sha'Daa: Tales of The Apocalypse.
RIP Richard Hatch (1945-2017)