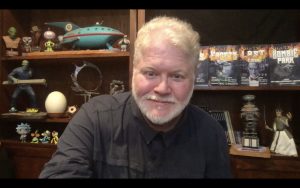 Okay, I just finished shooting the first of what I hope will be a series of videos promoting the various books and anthologies currently published by Copper Dog Publishing (MoonDream Press, Racket River Press, and Pumpkin Hill Press).
The first video is about the shared-world Anthology, SHA'DAA Tales of The Apocalypse. My production is a bit stripped down. I shot it in a small living room using the camera and mic on an old mac laptop, using the Quicktime App. No special effects, no editing, no rehearsal, and no script… and I'm obviously not a talented actor, but hopefully I got my message across.
My first Copper Dog Publishing Video premieres on the MoonDream Press Youtube page at 9:00 pm MT USA tonight!
Right Here: https://youtu.be/5rQngWUXax8
I hope to create one video for each of the current 18 volumes that Copper Dog has for sale… as well as future videos with FREE Giveaways, etc., so stay tuned for additional announcements!
Take care!
Michael H. Hanson