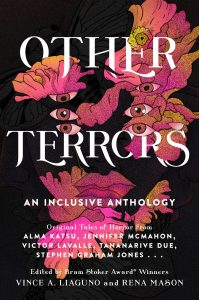 Michael H. Hanson's short story "Night Shopper" has been accepted for publication in OTHER TERRORS: An Inclusive Anthology:
Message From The Editors:
It's been a long road, but the day is finally upon us. After many months of reading and re-reading member submissions and editorial deliberations for the HWA's upcoming OTHER TERRORS: AN INCLUSIVE ANTHOLOGY project, we are pleased to make this final, exciting announcement.
Rena and I are thrilled to announce that although we were slated to select five member submissions, we worked hard to open up space for ten, doubling the presence of HWA members in our TOC. 22 short stories, 2 poems, 15 female contributors, 9 male—each bringing a unique perspective to this universal theme of "otherness" from the diversity of their backgrounds and experiences. Without further delay, we are happy to announce that the following HWA members will be included in OTHER TERRORS:
• Holly Walrath with "The Asylum"
• M.E. Bronstein with "The Voice of Nightingales"
and
• Hailey Piper with "The Turning"
These exceptional stories from our HWA members will join previously announced esteemed contributors:
• Stephen Graham Jones with "Tiddlywinks"
and
Rounding out this outstanding TOC, the following talented authors will also be joining the OTHER TERRORS lineup:
Heartfelt congratulations to all those whose stories made the TOC, and our sincerest thanks to the HWA membership for making our decisions so difficult. The quality of the pool of submissions was impressive! We deeply appreciate your patience as we worked through the long process of bringing this anthology together.