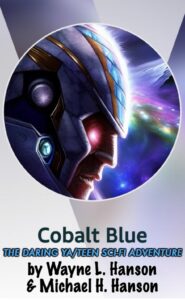 COBALT BLUE, Copper Dog Publishing's daring new Young Adult/Teen Sci-Fi Serial Adventure written by Wayne L. Hanson and Michael H. Hanson
Click the Link below to read the brand new Episode Eleven, "Buildup" on Amazon's Kindle Vella.
Note: You can read the first three episodes for FREE on Kindle Vella.
In a distant star empire, on the far side of the Milky Way Galaxy, teenager Michael Delong prepares for a dangerous supernatural ritual, The Blue, where he will be tested to see if he has earned the right to become a powerful Regent of The Imperium and the holder of fantastic powers. With the aid of two friends, his female bodyguard Tia, and Dave, an acolyte of an ancient monastic order known as The Keepers, Michael must fend off assassination attempts until he can fulfill his life's destiny.