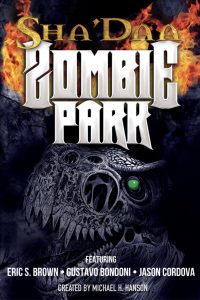 In accordance with Bram Stoker Award etiquette, MoonDream Press would like to offer HWA members a Free PDF e-copy of "SHA'DAA: ZOMBIE PARK" for Bram Stoker Award consideration in the category of Anthology.
If you are an official Horror Writers Association (HWA) Member and want a Free pdf copy, please contact me via FB Messaging, or let me know in a reply below, or you can contact me via e-mail at shadaa1@mac.com
[[HWA Members only please]]
Those horrors who hate humanity are massing in their millions, filled with the lust for blood and flesh. Arcane beings like The Salesman fight on humanity's behalf, but are their desperate actions a futile effort? Ground Zero for this bloodcurdling attack is none other than New York City's Central Park, a battlefield resurrecting all that ever lived and died in planet Earth's history. Sha'Daa: Zombie Park is a bloody, shared-world adventure Anthology that offers up three terrifying novellas of an apocalyptic future.
CONTENTS
Prologue: The Watcher by Michael H. Hanson
Chapter One: Showtime by Eric S. Brown
Interlude One: Strange Bedfellows by Michael H. Hanson
Chapter Two: Fire Within, Fire Below by Gustavo Bondoni
Interlude Two: Surfing The Quantum Swell by Michael H. Hanson
Chapter Three: Curtain Call by Jason Cordova
Epilogue: Afterburn by Michael H. Hanson
Edited by Michael H. Hanson
MoonDream Press
Published October 2020
————————
"Kick back and thrill to the apocalypse!"
– David Robbins, author of over 300 books including The ENDWORLD Series
"If Lovecraft were around to read [Sha'Daa], I think his first reaction would be annoyance ("They're building on my concept"), followed by a giggle or two ("They had a lot of fun doing it"), and ultimately pride ("They updated it and did it right")."
— Mike Resnick, Hugo, Nebula, and Locus Award Winning Author
"Hell. Literally, here! The Hordes of Hell are about to ride out upon mankind, the Forces of Evil are trembling with eagerness at the doors of our dimension…"
— S.M. Stirling, Prometheus Award Winning Author
"Once every ten thousand years, the Earth has the mother of all bad hair days. It's coming, and you can't run, you can't hide, and you can't stop the chaos. These anthologies offer a rich addition to the literature of dark fantasy."
— Catherine Asaro, Nebula, Sapphire, Prism, and National Reader's Choice Award Winning Author
"The same sense of awe and wonder that inspired readers to suspend disbelief and made Lovecraft's fiction so popular and enduring is evident in [Sha'Daa]. Highly recommended."
— Joan Turner, Dark Scribe Magazine